Belt Designs Return Policy
Any goods ordered from Belt Designs can be returned within 30 days of delivery if you decide the product is not suitable for you subject to our Terms and Conditions mainly that the item must be in new condition and not worn etc.
For orders placed between 1st November and 31st December we have an extended returns period and we will accept returns up to 31st January the following year. This makes it easier for you to buy Christmas presents early and if the item isn't suitable for the recipient then you may return it up until 31st January the following year.
We can only offer a refund (not exchanges). If you require a different size or color then please place a new order.
USA Customers Only – Returns Instructions
Items can be returned to our U.K. address within 30 days of receipt of your item. Please state on the customs forms (or CN22 if using USPS)  that these are 'Returned Items with no commercial value'.  This should assist the UK customs checks and clear the parcel so it can arrive at our UK address without delay.
Please make sure the item is well packed using protective outer packaging ( please re-use the original box/packaging if possible).
If you cannot reuse the original packaging then we kindly request that you use suitable protective packaging that will ensure the item is not damaged in transit.
We will refund you soon after the goods have arrived at the return address provided.
All other Customers outside the USA
Please follow the instructions on the Returns form enclosed with your item. Namely that you must return the Goods to our UK address. See further details below regarding CN22 and CN23 Customs labels.
Important Information For International Parcels Returned to UK
For all International parcels being returned to the UK a customs form (CN22 or CN23 for higher value items) is usually required to be completed and affixed to the outside of the parcel. This is a simple form that your local post office can assist you with.  When completing the customs form it should be noted in the description that the goods are of no commercial value as they are returned goods to be repatriated to the UK.
For example: 'Returned Goods, Leather Belt, No Commercial Value'. You then usually need to tick 'Other' as the type of item. Details of the weight must be included on the customs form. The CN22/ CN23 must be signed by the returning customer. Your local post office should assist you with the CN22/ CN23 label information. It is important to enter 'No commercial value' as it is a returned item that is being repatriated to us so we may refund you. Please see a completed example of a UK CN22 Form below. All other countries will have a similar form that may look slightly different but will require the same or very similar information.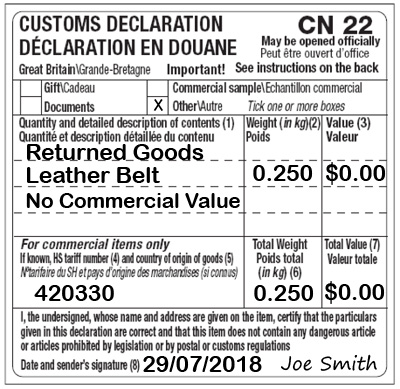 ---
If you have any questions regarding Returns then please do not hesitate to contact us. The best method is via email.
You can contact us via email 24/7 and we usually answer within a few hours during normal U.K. working hours (9am – 6.00pm).
If you send an email during the evening, weekend or public and bank holiday time then we will endeavor to answer within 24 hrs however we often reply much quicker than this.
email: contact@beltdesigns.com
Tel: +44 (0) 1994 231472 (Lines are open during U.K. office hours Monday-Thursday 10:30am to 6:00pm. Friday 10:30 – 2.00pm )